Welcome to the TapRoom Pub
– a place to discover us and our beer
Welcome to our pub at Sluppen!
Drop by during our opening hours and try our delicious range of beers.
No bookings needed(!) but if you want to make sure there is room for your group, feel free to book a table below.
In July 2018 we moved from our former location to the new Austmann Brewery & TapRoom. Under the same roof, the TapRoom offers visitors a unique look at our production and a chance to meet the team. Located just a short bus ride from downtown, we offer a range of our beers on tap as well as tours and tastings for groups of 10 or more.
A range of bar snacks are available, including gourmet grilled cheese sandwiches from Melt, another Trondheim start-up.
Opening hours
Due to the current situation surrounding Covid19, our TapRoom is closed until the 4th of June, but will then open with the following opening hours from Thursday – Saturday going into the summer:
Taproom
Thursdays: 15.00-23.00
Fridays: 15.00-00.00
Saturdays: 18.00-00.00
Fabrikkutsalg
Thursdays: 14.00-20.00
Fridays: 14.00-20.00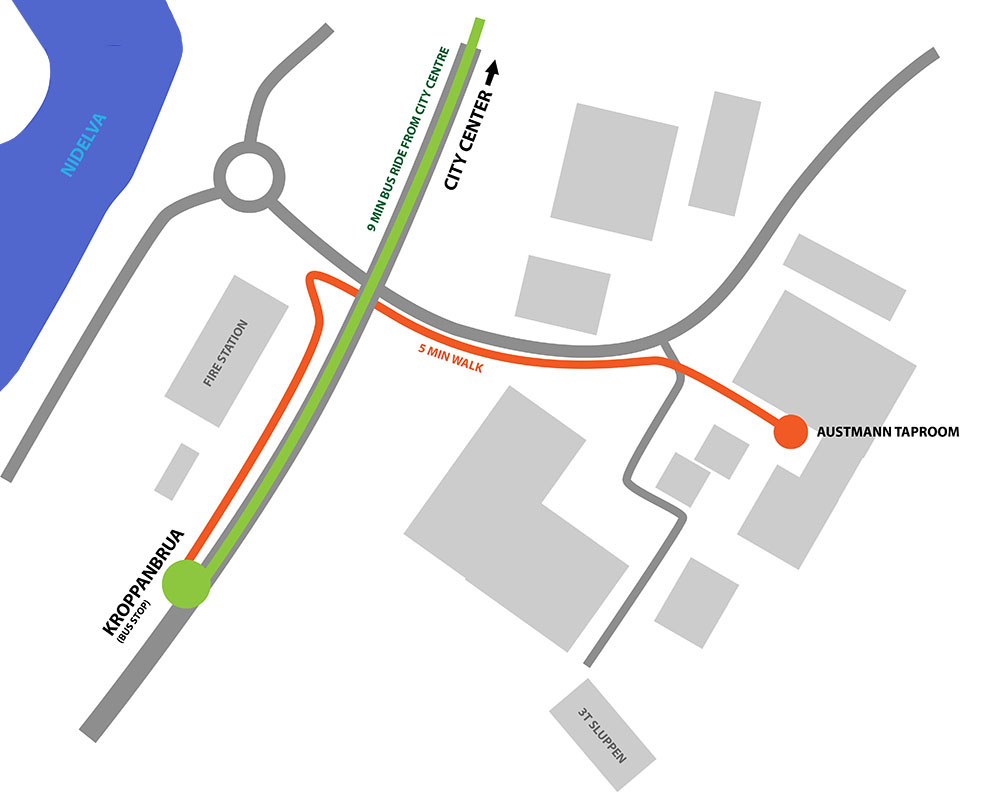 How to get here?
From the city centre, grab bus number 4, 6, 9, 11, 38 or 46 and take the bus for 10 minutes until bus stop "Kroppanbrua".
Walk back along the main road for 150m, take a right to the underpass and walk uphill. Look for a large yellow building on your right side.

Address
Sluppenvegen 10
7037 TRONDHEIM
Click here for directions on Google Maps
Getting here by bus
Nearest bus stop: Kroppanbrua (K)
Link to travel planner for bus