OUR BEERS
Hoppy Blonde
Sassy Blonde Ale
A light and fruity malt body makes her an irresistible thirst quencher that is low in bitterness and big on wow. Great with food, a beauty on her own – this is one refreshing bit of craft.
Tre Gamle Damer
Benefactor Belgian Pale Ale
Austmann was built on more than just blood, sweat and beer. Three old ladies also put their homes on the line to help raise the start capital. After all, no one loves a son like a mother. This one ́s for you mom.
Utpå
Park & Picnic Wit
Utpå (oot-pawh) is a crisp wheat beer with a bite of zesty orange peel and fresh cracked coriander. This is our tribute to lazy weekends and all things summer.
Coffee Porter
Breakfast Porter
Our second favourite beverage is coffee. Our second favourite hangout is Jacobsen og Svart Coffee Roasters. Together we have created a roasted, malty beer with all the caffeine kick of your morning cup of Joe.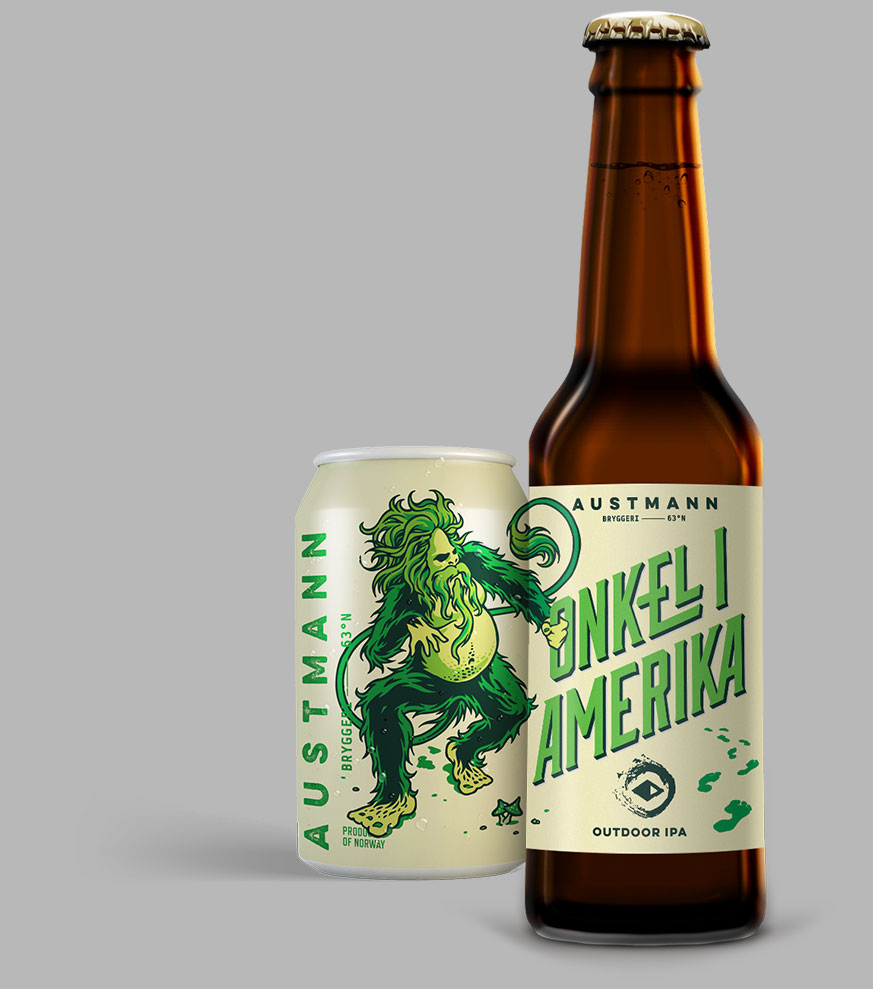 Onkel i Amerika
Outdoor IPA
Throw a few in your backpack, head out and enjoy this bit of awesome on your next great adventure. Hop-bursted, dry-hopped and bottled for freshness, this sessionable IPA won't be lost in the woods. Enjoy this bit of awesome on your next great adventure.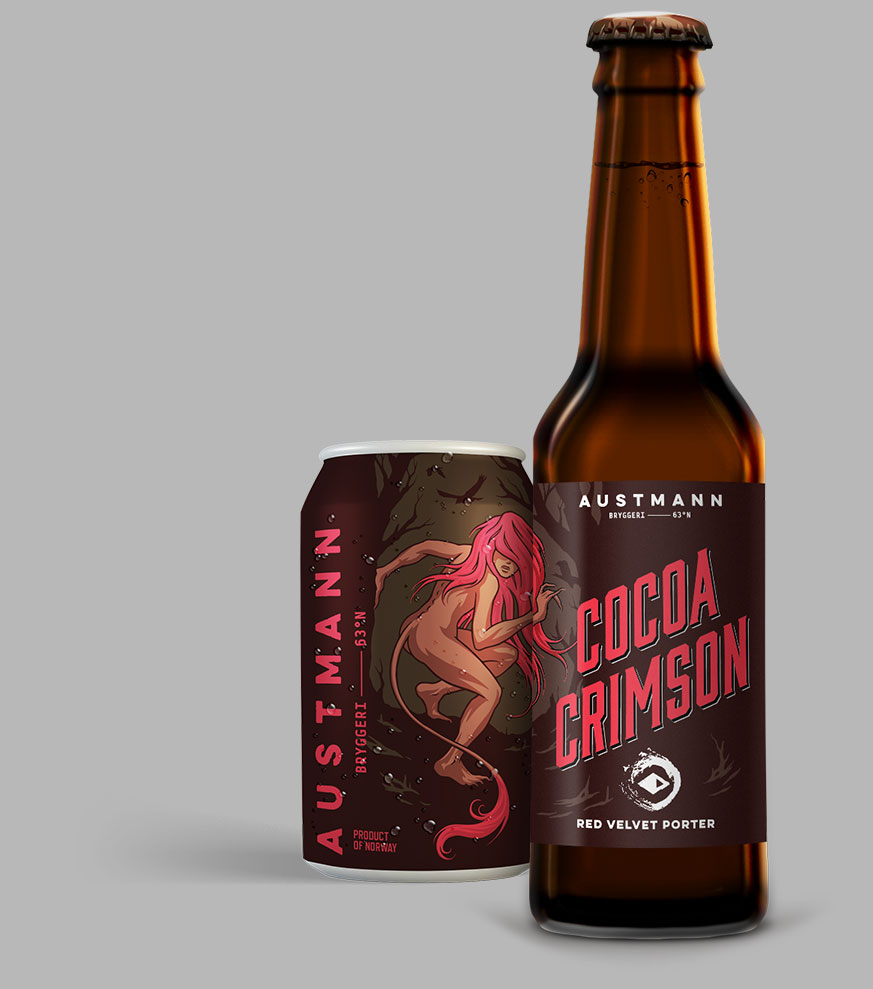 Cocoa Crimson
Red Velvet Porter
Hidden behind a veil of malt sweetness, Cocoa Crimson will surprise you with her chocolate and cherry finish. She may look frail, but she can punch above her weight. Watch out for what lurks behind you.
Northie
Malt Bomb Brown Ale
Robust, down to earth, and solid – Northie is a malty, no fuss, cut the crap, 'take my money' brown ale. Inspired by tradition, brewed the way we like it.
IPA
India Pale Ale
Just the right juicy, Austmann ́s India Pale Ale is so much more than a bitter bomb. We ́ve balanced the bite of an early hop addition with the tropical punch of fruity aroma hops. Best enjoyed fresh.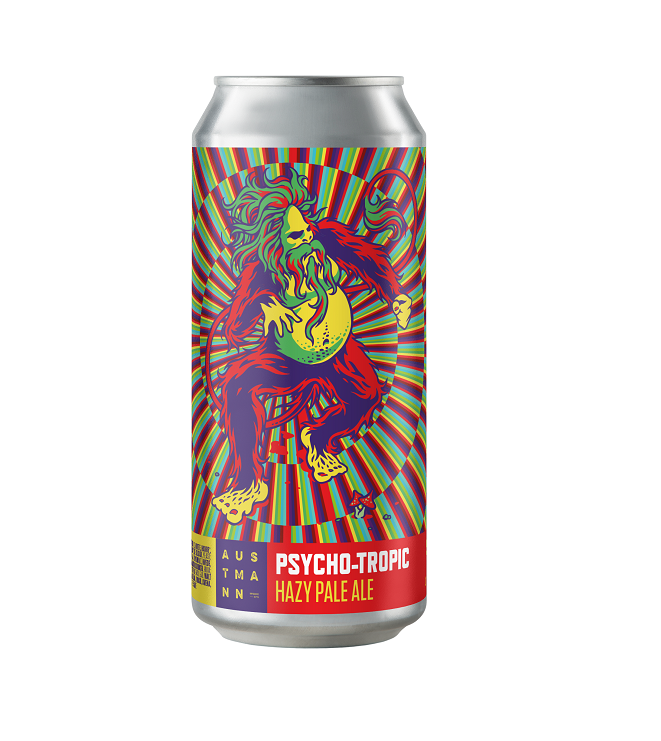 Psycho-Tropic
Hazy Pale Ale
All-Norwegian malts, oats and wheat, buckets of Aussie hops and a hazy yeast strain make this super-drinkable pale ale a mindbender. Full-bodied, low/medium carbonation and zesty top-note elevate this sessionable pale ale to a new level. Step through the looking glass…
Besøk oss på bryggeriet – kom til Taproom!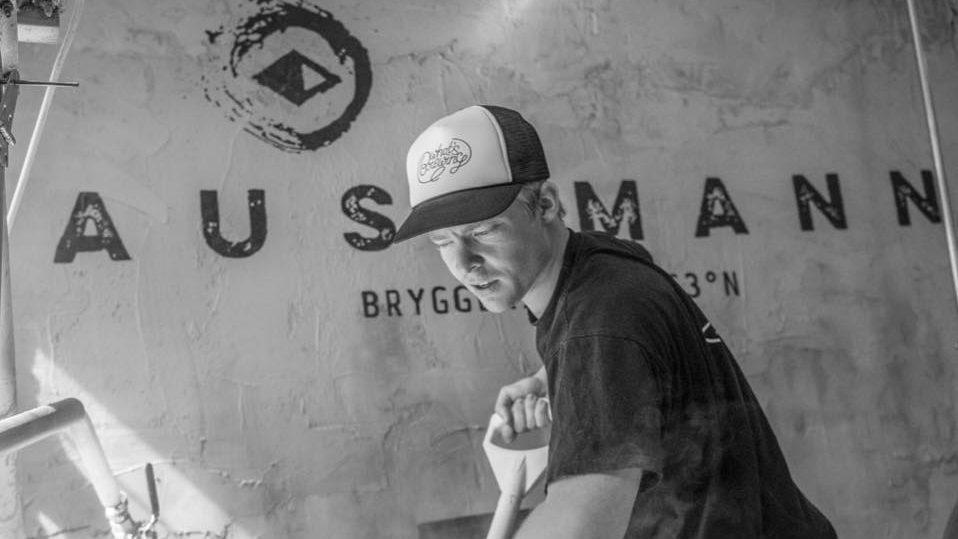 Book et bord!
Besøk vårt in-house Taproom, prøv et utvalg av våre øl eller bare kom innom for å slå av en prat
Tour & Tasting
Få en omvisning i bryggeriet, et foredrag om Austmann og en ølsmaking i en og samme pakke – sjekk våre tour&tastings!
Events
Følg oss på facebook og instagram og få med deg de siste konsertene, arrangementene og alt det andre som foregår på bryggeriet!
Finn oss
Besøksadresse for kontor, lager, bryggeri og Taproom
Sluppenvegen 10
7037 TRONDHEIM
Click here for directions on Google Maps
Hvordan komme seg dit?

Buss
Du kan ta nesten samtlige busser – disse rutene stopper 5 min fra bryggeriet. Bare følg pilen på bildet fra holdeplassen.
Disse rutene stopper på Sluppen:
– 1, 2, 15, 53, 71, 72, 104, 110, 111, 310, 340, 410, 4101
Lenke til reiseplanlegger for buss
eller trykk her om du vet hvor du skal reise fra:
Du kan også bruke apostelenes hester, drosje, bysykkel, kamerat med bil eller en el-sparkesykkel. Sistnevnte går helt frem.
Telefon til administrasjonen
08:00 – 16:00: 477 82 966
Kontakt oss
Administrasjon: kontakt@austmann.no
TapRoom booking: taproom@austmann.no